Difference between revisions of "Lightspeed Lightspeed Settings"
From LightSpeed Help Guide
Line 216:
Line 216:
 

## Enter your "Target Items-Per-Hour (Per Person)" and "Current Number of People in this Zone".

 

## Enter your "Target Items-Per-Hour (Per Person)" and "Current Number of People in this Zone".

 

## Click Save

 

## Click Save

 
+
 
 
 

==Employees==

 

==Employees==
---
Revision as of 15:16, 24 August 2017
Return To | Guides Home | Lightspeed Admin
Map Products to Lights
Mapping Products to Lights assigns an individual product code to each light in the Lightspeed FastTrack system To map all necessary products to lights complete the following:
After selecting 'Map Products to lights' the operator will select the needed pickign zone

Only applicable if multiple FastTrack pick zones are used
Lightspeed will automatically select the zone if one zone is in use

Using the following information select the needed product light

Gateway ID
Tag Address
Current Product
Rack Section

Select 'Edit' to adjust the given product light
Search for the needed product to be assigned using the following

Scroll to product description
Clicking into the drop down box and typing the product description

When the needed product has been selected choose 'Update' at the right to confirm the selection
Map Products for Mobile
Mapping products for mobile through the administrator page gives the operator the ability to see all racks and sections to adjust all product locations
Select the needed mobile picking zone

If only one mobile picking zone the zone will be automatically selected

Using the pick zone diagram find the necessary section to expand

Expanding a section displays all rows and locations available

Select the product location to be adjusted
Use the product selection dialog box to assign the new product
Commands include:

Save

Save the adjusted product

Print/Save

Print product label from receipt printer and save changes

Print

Print product label from receipt printer

Cancel

Map Products for Mobile (Alternate)
Using the alternate location for mapping products for mobile allow the operator to scroll locations as well as find what location is currently being held by a selected product Adding a product to a given location:
Use the scroll selections to select the needed location

The currently mapped product will be displayed

Using the search input find the correct product to add

If the product is currently mapped elsewhere the location will be shown

Select 'Save' to make the entered changes

Select 'Save and Print' to confirm changes a print product label from receipt printer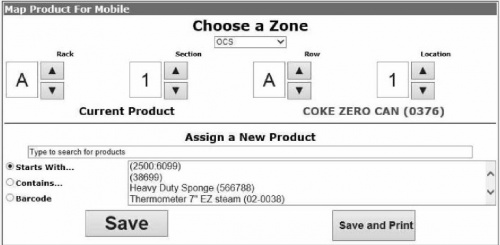 Assign Product Images
Product images can be added using the iPad as well as the Lightspeed administrator page. To add images through the adminstrator page use the following steps:
Use the search dialog to find the needed product

Begins with...
...Contains...
Search with CODE

After highlighting the needed product select 'Browse' to browse to a folder with the wanted file
When the product image has been selected confirm 'Open' to upload the product image to the Lightspeed database
Product Overrides
Adding a product override through the adminsitrator page allows the operator to create an automated product swap for a given time span. The overrides that are created will apply an automatic one time product swap for all orders that contain the given items
To create a product override complete the following:
Select 'Add New Override'
Using the dialog box complete the following information:

'Override This Product'

Select item that will appear in original order from provider to be overridden

'Replace With This Product'

This item will be picked in place of the original item selected in all applicable orders

'Effective Date'

Beginning pick date for the given override

'End Date'

Final pick date for the override
Once the end date passes for this override the original product if on any provider orders will once again show up in the Lightspeed system to be picked
Product Category Filters
Assigning product category filters allow the Lightspeed database to filter all products properly which are included in provider orders. All product categories that are required to be picked must be selected in the proper picking zone.
To complete product category filters complete the following:
Select the Lightspeed Pick Zone to edit
Mark the check box for all product categories that are required in the selected zone
Select 'Save' to confirm these changes to the Lightspeed database
Machine Category Filter
All orders that are downloaded from an order provider are associated with a given machine category. All machine categories are required to be added to a Lightspeed picking zone to be filtered for picking. All machine categories are supplied by the order provider.
To apply machine categories complete the following:
Select the Lightspeed picking zone to adjust filters
Mark the check box for all machine types that are required in the given Lightspeed picking zone
Select 'Save' to confirm all changes
Product Dimensions
Lightspeed provides that additional feature of calculating the required number of containers needed to complete an individual order. All products are required to have valid dimensions entered to complete this. Lightspeed is able to import sizes under certain circumstances.
To enter product sizes through the administrator page complete the following:
Using the filter at bottom search for the needed product
Select 'Edit' to unlock the dimension fields
Input all necessary dimensions
Select 'Save' to confirm additions
Container Dimensions
The Lightspeed system uses all container dimensions to calculate the needed amount of containers fora given order. This can include multiple sizes and volumes.
To add all needed container dimensions complete the following:
Select 'Add New'
Enter container specifics

Description
Length
Width
Height

Select 'Save' to confirm container edits
Link Secondary Provider Products
All secondary provider orders use a link between product codes to use a centralized product mapping throughout the warehouse. There are provider specifics which all for automatic linking between providers that a Lightspeed technician can assist with.
To view and edit secondary provider links follow:
Select the needed secondary provider
Select 'Show Filter' to display all search criteria
Search to find needed product to adjust
Select 'Edit' to unlock the product fields
Using the primary provider Product drop down select the correct product to receive the link
Select 'Save' to complete link
Edit Routes
The Edit Routes page show all routes that have been downloaded from all connected providers.
For a route to be listed in all procedural list it will need to be marked active in the route list
To activate a route complete the following:
Select 'Edit' for the needed route
Mark the 'Active' check box
Select 'Update' to save changes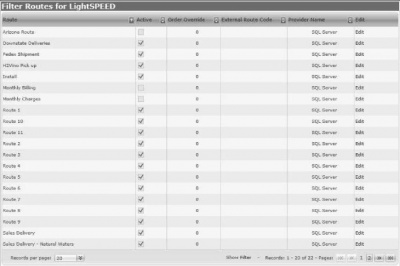 Configure Provider/Source
The Configure Provider/Source is used by all Lightspeed technicians to adjust all provider settings and connections. All Information that is required can be covered by a Lightspeed project manager or on call support staff at any time.
Lightspeed Options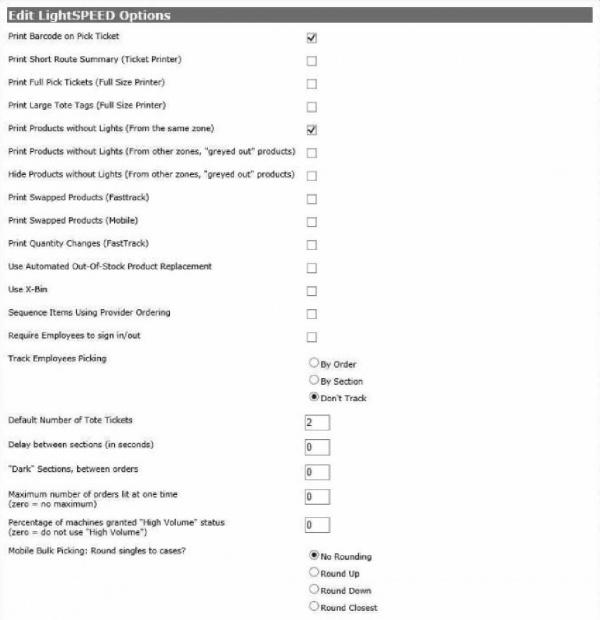 Lightspeed Options contains customer specific configurations that are setup by all installation project managers. If any changes are needed they can be adjusted by marking the check boxes as checked/unchecked as well as inputting new data values.
Lightspeed Options Include:
Print Barcode on Pick Ticket
If order contains a unique barcode for each order Lightspeed has the ability to print this barcode on each tote ticket
Print Short Route Summary (Ticket Printer)
Lightspeed FastTrack will print a summary of locations and amount of totes automatically at completion of each route during picking
Print Full Page Pick Tickets (Full Size Printer)
Upon order completion Lightspeed has the ability to print a full page order description if needed
Print Large Tote Tags (Full Size Printer)
As an alternative to the standard tote tickets Lightspeed may print a full size version if necessary
Print Products without Lights (From the same zone)
A Lightspeed FastTrack order may contain items that are not associated with a light but are in a product category which should be picked. These items show at the end of each order and a separate ticket slip can be printed for these items.
Print Products without Lights (From other zones, "greyed out" products)
Any Lightspeed FastTrack order can contain products also filtered to other picking zone. Printing these products will print an additional pick slip for any items not filtered to the FastTrack light zone.
Hide Products with Lights (From other zones, "greyed out" products)
All items that are included in a pick order but are filtered to a separate zone will be displayed at the bottom of the pick list in grey text. This option will hide these products from the FastTrack pick screen.
Print Swapped Products (FastTrack)
If a product occurs from a one time swap during picking or from a saved override in the admin page a separate slip will be printed to show this information.
Print Swapped Prducts (Mobile)
If a swap occurs during mobile picking or entered from product overrides a separate ticket will be sent with this information
Print Quantity Changes (FastTrack)
Any quantity changes that occur during picking on the Lightspeed FastTrack system will trigger an additional pick ticket to be printed with this information
Use Automated Out-Of-Stock Product Replacement
Activating this feature will allow the 'Out-of-Stock' tab to be visible from the home page
X-Bin allows for an additional order per route to be picked with extra stock for each truck
Sequence Items Using Provider Ordering
If orders providers create an order sequence at order creation Lightspeed is capable of downloading this information along with all orders
Require employees to sign in/out
By Order
By Section
Don't Track
Lightspeed will set the 'Order Complete' button for the FastTrack pick line to a default quantity. This can always be adjusted while picking on the FastTrack pick line.
Delay Between Sections (In Seconds)
A section delay allows for the given time interval to pass before the next orders is lit in each section
"Dark" Sections, between orders
A dark sections provides a one section buffer between orders so that no two colors will ever be directly next to one another
Maximum number of orders lit at one time
0=no maximum - Lightspeed has the ability to restrict the amount of orders lit at one time to cut down on errors between orders
Percentage of machines granted 'High Volume' status
All 'High Volume' machines with display an 'H' in front of all ordered quantities to indicate they are part of the given percentage granted high volume status
A manual order can be inputted by the operator - these selections determine the type of order

Manual Orders By Machine - Multiple per route
Manual Orders By Route - One 'bulk' order per route
Set Open Days
Open days determine the automatic selection for all Lightspeed calendars. If a given day is not selected the Lightspeed system will not account for this as an open day.
To change the selections complete the following
Select all days of the week that are open for picking
Select the number of days in advance orders are assigned to from the order provider
Select 'Save' to confirm days
Pick Zone Edit
Pick zone edit contains information that is zone specific for the Lightspeed system to pick and display orders properly per zone.
Information that can be adjusted includes
Zone Name
Small (Receipt) Printer Name
Full PAge Printer
Case Grouping options
Case Options
Default Mobile Orders
Allow Updates
Allow Product Swaps
To change any information:
Select 'Edit' for the given zone
Make all changes
Select 'Update' to save information
Pick Incentive Time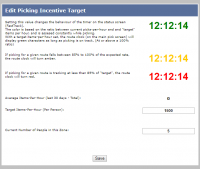 The pick incentive time is displayed on the FastTrack target timer to allow operators to view the estimated time until completion of all selected orders using the total amount of products included in all orders.
To adjust the pick incentive time complete the following:
Go to the Admin Page.
Go to "LightSpeed Settings".
Go to "Pick Incentive Time".
Choose the Zone you want to adjust and click "Continue".
Enter your "Target Items-Per-Hour (Per Person)" and "Current Number of People in this Zone".
Click Save
Employees
All employees need to be added to create a login for the iPad picking system
To add an employee select 'Add New'. The following information is inputted for each employee
First Name
Last Name
Hourly Rate - Not Required
Benefits - Not Required
Passcode - 4 Digit Pin
RFID Tag - If Applicable
Max Mobile Orders - If Needed
Select 'Update' to save changes

Employee Hours
Entering employee hours allows select Lightspeed Reports to break down cost to specific levels. The employee hours page uses all employees added in the previous employee page to be tracked.