LightSpeed Vision Schedule
From LightSpeed Help Guide
Return To | Guides Home | LightSpeed Vision
Overview
Vision has a sophisticated scheduling system allowing for scheduling Layouts across Displays and Display Groups. This is achieved through schedule events and visualized on the Calendar.
Events have the following properties:
Events spanning two dates - no maximum or minimum time
Recurring events
Priority events
Schedule an event for more that one Display/Display Group at once

NOTE: If at any time there are no layouts scheduled to run, the default layout for the Display will be run automatically.

Calendar View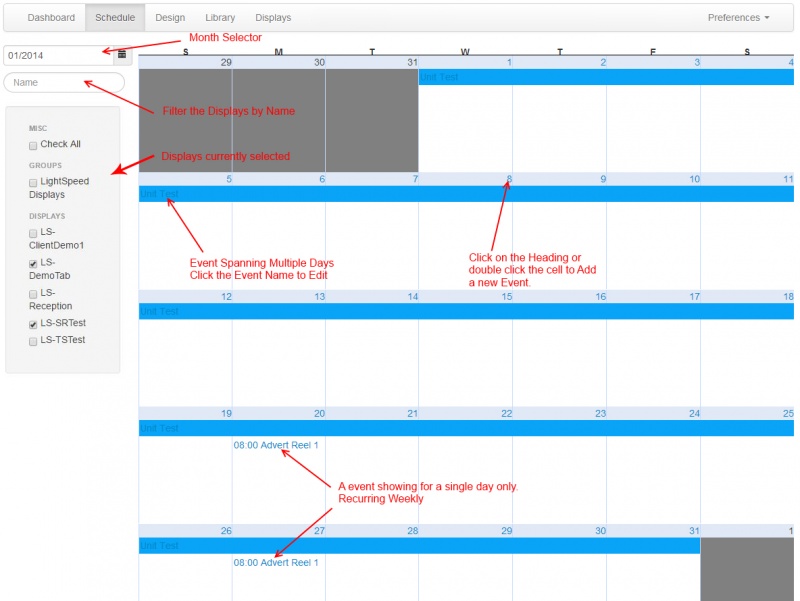 The calendar view is accessed using the Schedule menu item. From the calendar you can:
View all the events scheduled for the selected displays managed by Vision.
Schedule new events
Edit existing events

NOTE: When a Display Client has more than one Layout scheduled to it at one time, it will automatically alternate between the Layouts in the schedule.
























Schedule Events
Events are Layouts assigned to Displays at specific dates and times. The Calendar view is used to launch the Add/Edit Event form.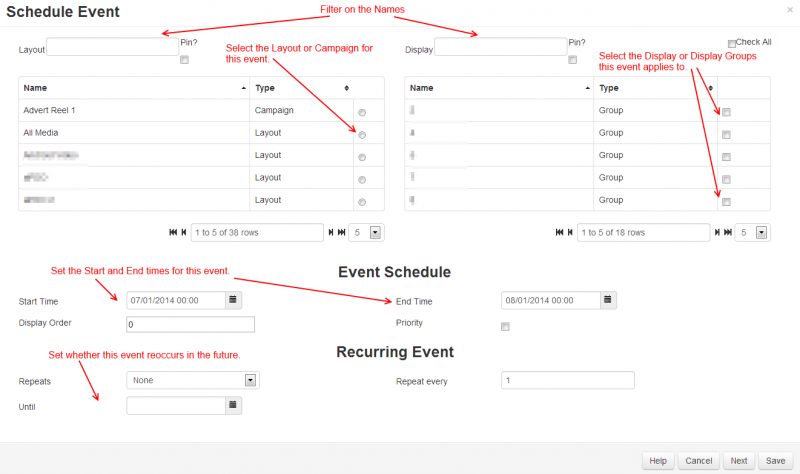 Recurring Events
The Vision scheduler features the ability to create recurring events. To set the recurrence for events, select the required "Repeats" value from the list and the appropriate additional fields will be revealed. A scheduled event can be repeated at a defined interval (hourly, daily, weekly, monthly or yearly) until a specified date/time.
Priority Events
Priority schedules allow you to add a Layout to the Schedule that overrides all other Layouts that are scheduled. This could be useful for displaying temporary important notices, or overriding the schedule for a specific event without having to cancel the Layouts that would normally be running at that time.
When adding a new schedule, or when editing an existing schedule, tick the "Priority" box to make the schedule override the others. You may schedule multiple priority layouts at once. They will be shown in a cycle in the same way as non-priority layouts would be.
Deleting an event
To delete an event, first open the Schedule form and then select the "Delete" button from the button bar on the form. The Delete Event form will open allowing confirmation of the Delete.

Schedule Now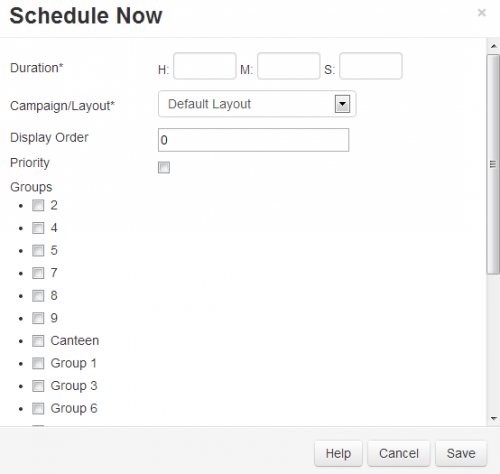 Schedule Now functionality is available throughout the CMS and provides a quick way to Schedule a Layout for a specific amount of time. This is typically used for displaying temporary notices on Vision.
Duration - How long should this Layout be on the Schedule?
Campaign/Layout - The Layout for this event.
Display Order - If there are other Events scheduled at the same time, which order should this event play in.
Priority - Should this event have precedence over other non-priority events.
Groups/Displays - The Displays to schedule this event on.