Performing a Transfer on the Handheld
From LightSpeed Help Guide
Return To | Guides Home | LightSpeed Level
In Level, you are able to transfer inventory from your warehouse.
you can either transfer these out of your system though "Sale,
"Spoil", etc or you can Transfer item to another Branch.
to transfer items, select" Transfers" from the Home Screen
.
From here, you are able to either begin a new Transfer or perform an Existing
Transfer.

To begin a new tranfer, verify the date and Branch, choose your Destination,
and select "Create".
To continue an Existing Transfer, select The Transfer from The list, and select
"Continue".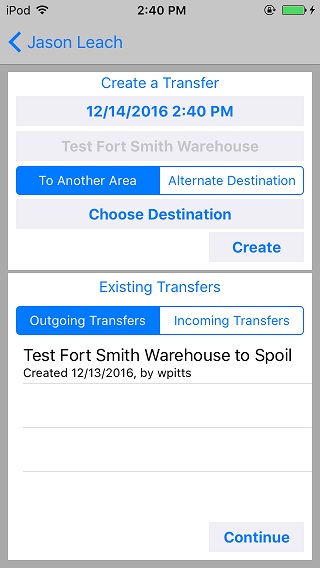 .
If you are creating a new Transfer, you will then be able to scan or
search for items you wish to Transfer, select the size and quantity,
and select"Save".
.
if you are performing an Existing Transfer, you will be able to
scan or search for the item listed, select the size and quantity and
select "Save".
Once you have entered all of the items needed for this Transfer,
select"Commit".