LightSpeed Vision Quick Start Guide
From LightSpeed Help Guide
Return To | Guides Home | LightSpeed Vision
Getting Started
When you receive your Vision device, here's what will come in the box, what you will need to get set up and how to connect your device to WiFi.

What's in the box?
What you'll need

Setting up the device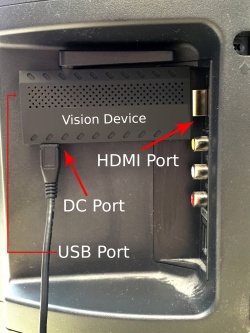 Connect the Vision Device to the AC Power Adapter and then connect the Adapter to a power source. Be sure the Power Adapter is plugged in to the port marked "DC" on the side of the Vision Device.
Plug the Vision device into the HDMI port of the display. You can use the HDMI Extension Cord if needed.
Power on the display. Make sure that the display is set to the correct HDMI input.
Plug the USB Wireless Dongle into the bottom of the Vision Device.
Connecting to WiFi
NOTE: you will need either a wired or wireless mouse and USB wireless dongle. A wireless keyboard is also ideal, but not necessary.

If your content has already begun playing, right click anywhere on the screen to return to the Vision Home Screen.
Click the gear symbol near the bottom of the Vision Home Screen. This will take you to the Vision Settings Screen. On the left, select Wifi, then select the network you wish to join. Enter the password if necessary, then click connect.
Right click to exit back to the Vision Home Screen. Click on the "LS" icon at near the bottom of the screen. Your content will begin playing shortly.